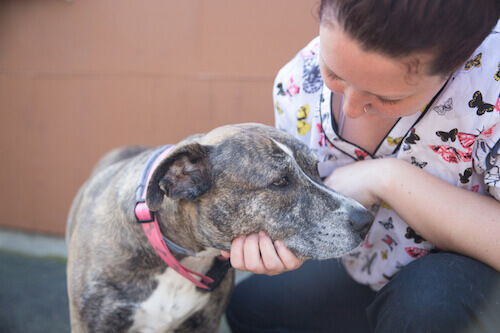 Although Halloween can be spooky fun for humans, it can be downright scary for pets. From dangerous Halloween candy to costume mishaps, there are a lot of potential hazards out there. Even if you take precautions, your pet might still get into some mischief. Keep a close eye on him or her, and know where the nearest emergency vet is—just in case.
Toxic Candy
Certain types of candy can be dangerous and even fatal for pets. Most people have heard about keeping chocolate away but even sugar-free candy can pose a hazard as it often contains xylitol, a non-sugar sweetener that is poisonous to animals. Keep Halloween candy out of reach of your pets at all times!
Dangerous Costumes
Posing your pet in cute costumes can provide the perfect photo to post on social media, however, pets aren't always as amused as we are. If your pet shows any sign of distress, it's best to remove the costume immediately. Before putting any costume on your pet, check it for small, loose parts that your pet might swallow and ensure that it isn't so tight that it might restrict your pet's breathing or movement.
Stressful Visitors
Some pets handle unexpected visitors better than others. If you think your pet might be stressed out by potential trick-or-treaters knocking on your door, it may be best to confine him or her in a closed-off room for the evening. This will also help prevent your pet from getting into the candy bowl or even dashing out the front door. It's also a good opportunity to double-check that your pet is microchipped—even indoor cats––in case they do wander off.
If your pet does get into any Halloween mischief this year, Emergency Veterinary Hospital is open for you 24/7. Our caring veterinarians provide a range of urgent care services for pets in the Springfield, OR and surrounding communities. In case of emergency call us at (541) 746-0112 or the Pet Poison Hotline at (855) 764-7661.