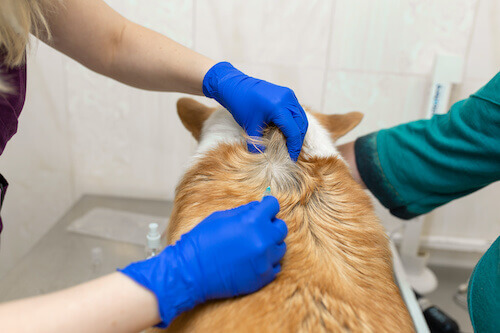 Snakes come out of hibernation during the summer months, so it is important to be prepared in case your pet is bitten by a snake. Snake bites can be frightening, but with the right veterinary care, they can be managed quickly. Keep reading for information about what to look for, what you should do, and what to expect when you bring your animal to the emergency veterinarian.
Signs of a Snake Bite
The first sign of a snake bite is two puncture wounds. There may be some bleeding, and if your animal was bitten by a rattlesnake, the wounds may be bleeding a lot more than if the bite was from another species of snake. You might also notice some swelling around the bite. Bites are typically painful, so your pet may show signs of distress.
Before You Go to the Veterinarian
It is normal to panic when your pet is injured, but the most important thing you can do is to stay calm. Carefully move your animal away from the snake. Do not attempt to catch or kill the snake though any description you can provide may be helpful. Contact your emergency veterinarian and explain what happened. If possible, you will want to have someone drive you to the veterinary hospital or have them ride with you to comfort and watch your pet while you drive. They can also help with moving your animal from the vehicle when you arrive at the hospital.
How the Veterinarian Will Help
When you arrive at the emergency hospital, the veterinary team will inspect the bitemark and give your animal a shot of antivenin if there is a strong possibility the bite came from a rattlesnake or other venomous snake. They will then clean the wound and provide antibiotics to prevent infection. The veterinarian will most likely run some lab work and monitor your pet to make sure they are recovering. If your animal has lost a lot of blood, your emergency veterinarian will provide fluids and a blood transfusion if needed.
Emergency Veterinary Hospital is here to help 24/7, 365 days a year to help with your pet emergencies. Call us in Springfield at (541) 746-0112 to get the urgent care your pet needs around the clock!