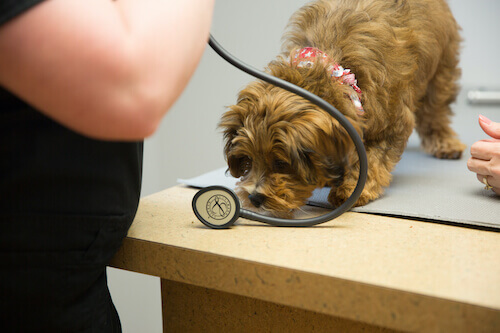 If your dog is sick or hurt, you may be wondering if you should take your dog to an emergency veterinary hospital instead of waiting for availability at your regular veterinarian. Keep reading for signs that your dog can't wait to be seen.
Exposed to Toxins
If your dog ingests chocolate or medications, you should call the Pet Poison Hotline at (855) 764-7661 or contact an emergency veterinarian immediately. Did you know that tulips and slug bait are poisonous to pets? The earlier you get help, the better chance they have for effective treatment.
Hard, Bloated Abdomen
A bloated abdomen may seem like something minor for humans, but in dogs, it could be caused by any number of serious conditions, including internal bleeding, heart failure, or stomach torsion. Do not wait it out to see if the bloating subsides. Take your dog to the emergency veterinarian right away.
Vomiting & Diarrhea
Occasional vomiting and diarrhea are not usually cause for concern, but if your dog is experiencing either for an extended period, they run the risk of becoming dehydrated. This can also be a sign they were exposed to toxins, like those listed above. If at any time you are concerned with the amount of vomiting or diarrhea, call your veterinarian or emergency veterinary clinic for guidance.
Extreme Pain
It would be nice if dogs could talk and tell us they are experiencing pain, but there are other ways they communicate with us. If your dog is refusing to eat or drink, panting, drooling, yelping, growling, or whining uncharacteristically, these could be signs that your pet is in pain. If your veterinarian is unable to see your dog that day, you want to make your way to the emergency veterinary hospital immediately.
If your dog has an emergency, we're here to help 24/7, 365 days a year to help. Call Emergency Veterinary Hospital in Springfield at (541) 746-0112 for your pet emergency needs.