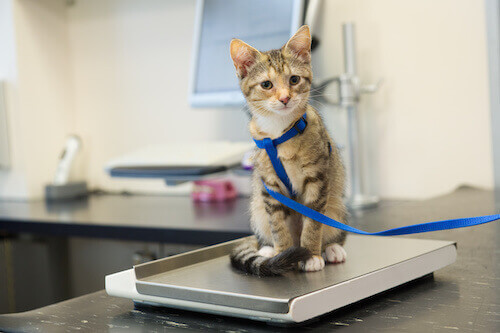 Holiday décor brings the spirit of the season home, but it also creates some hazards for pets. Anyone who has ever had a curious pet topple a Christmas tree knows that it's worth spending some extra time to pet-proof your holiday décor. These tips will help you enjoy the happiest time of the year while keeping your pets safe along the way.
Put Up a Cat-Safe Christmas Tree
A Christmas tree with swinging bulbs, flickering lights, and shimmering tinsel is virtually irresistible to cats. But what may look like the ultimate toy to your pets can be a significant danger, so we suggest these simple ideas to make your tree as safe as it is beautiful:
Start with a strong tree base that will hold the tree firmly in place, even if it gets bumped.
Cover the base—and the water bowl, if you have a live tree—with a tree skirt to keep pets away from the base.
Ideally, place the tree in a room with a door you can close it when you're not able to supervise your pets.
Avoid putting ornaments on the lowest branches of your tree, so your cat isn't tempted to knock them down.
Pick Pet-Safe Plants
Several plants associated with holiday decorating, such as holly, mistletoe, poinsettias, and lilies, are dangerous for pets. If you have these kinds of plants, be sure to place them out of reach of your pets or skip the worry completely and either ask your florist for a pet-safe arrangement or opt for artificial plants instead.
Save People Food for People
Pets are skilled at angling for a bite of your holiday meals, but these foods can cause gastrointestinal upset and some may even be toxic. Avoid giving your pets food that was made for your human family and make sure that everyone who visits your home knows not to feed your pets.
If a pet emergency does occur during the holidays, we're here to help 24/7, 365 days a year. Call Emergency Veterinary Hospital in Springfield at (541) 746-0112 to get the urgent care your pet needs around the clock!